Digital transformation: technology's impact on real estate sector to be discussed at PROESTATE.Live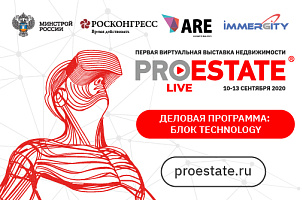 The PROESTATE.Live International Investment Forum, which is set to take place on 10–13 September, is to feature a series of online discussions under the theme TECHNOLOGY. This theme forms one of several pillars making up the business programme for the event. The events will be attended by leading experts, who will discuss which modern technologies are crucial to the real estate sector today, as well has how to best employ them. They will also seek to identify the trends which could emerge in the near future. The Forum is being organized by the Roscongress Foundation; the Ministry of Construction, Housing and Utilities of the Russian Federation; the Academy of Real Estate (ARE), and IMMERGITY.
A key session under the TECHNOLOGY pillar, entitled PropTech: Lessons 2020, will focus on digital transformation as an essential stage in the development of today's real estate market. PropTech is a new trend which is pervading the entire development project creation process, from the initial idea phase to delivery to the buyer. It encompasses all aspects of digital transformation in the sector, such as BIM technology (computer modelling); building digital twins; creating a new sales model; design work; and interacting with investors, partners, contractors, and end consumers (i.e. smart home systems etc.).
However, a full transition in response to the new reality is yet to have taken place on the real estate market. Participants at the session will look at how events in 2020 have impacted the implementation of technologies, consider how the PropTech sector is evolving, and identify shifts in the digital sphere that could be expected in the near future.
Among those attending the event will be Irina Dobrokhotova, Chairman of the Board of Directors at BEST-Novostroy; Konstantin Lebedev, Partner and Head of the Evaluation Department at Cushman & Wakefield; Viktor Kozin, Vice President of Becar Asset Management; Vladimir Oleynikov, Partner at SRG Group; Kirill Malyshev, Partner at PROPTECH.RF; and Kirill Usaty, Manager for KPMG's Digital Solutions Group.
On 10 September the TECHNOLOGY pillar will feature another key session entitled Construction Science: From Theory to Practice, as well as an expert panel entitled Residential Real Estate: Buying Online, and a discussion entitled Development Digitalization: Impact and Implementation.
Events taking place on the second day of the Forum under the TECHNOLOGY pillar will include a session entitled State and BIM: Implementation Experience in the Construction Industry, an expert panel entitled BIM Technologies: Solutions for the Developer, a conference entitled Digital Ecosystem: Smart Business Processes in Development from Project to Management, and a discussion entitled PropTech – Technologies for Commercial Real Estate Management.
12 September will see a discussion take place entitled Digital Style Construction Site. Participants at the session will examine what exactly needs to be done in the near future to enact the transition of one of the most cost-intensive and complex processes in development to the digital sphere. They will also consider how this will help optimize construction costs and timeframes, oversight and monitoring procedures, and coordination between project participants and government bodies.
In addition to TECHNOLOGY, online events will take place under a further five pillars, which together make up the business programme: STRATEGY, HIGH LEVEL BUSINESS, INVESTMENT, KNOWLEDGE, and BUSINESS FOR PEOPLE. Events under each pillar will take place in their own virtual hall.
PROESTATE.Live is a virtual, interactive online forum which will bring together a 3D exhibition, rich conference programme, and a broad range of networking opportunities.
The Forum's partners include Mosinzhproekt (official partner), ANT Development (partner), YugStroyImperial (partner), A101 Group (official session partner), Colliers International Group Inc. (official session partner), and Cushman & Wakefield (session partner). Exhibitors include Miele CIS, Accent Capital, Merakom, pro.rent, Becar Asset Management, Hua Hin MM Group, and Marden Property.
You can view the business programme, register for the event, and apply for media accreditation on the official website: proestate.ru
Contact info for media accreditation:
Natalya Dedelyuk
+7 (921) 653 9288